Part 2: Dashboard
The "my Organization" menu is largely intended for the Organization Administrator. In larger organizations, this is often an application manager. The institutions are configured there, and departments and employees (practitioners and department managers) are created. Payment settings and widgets are also created and managed for placement on your website or portal.
Meet your client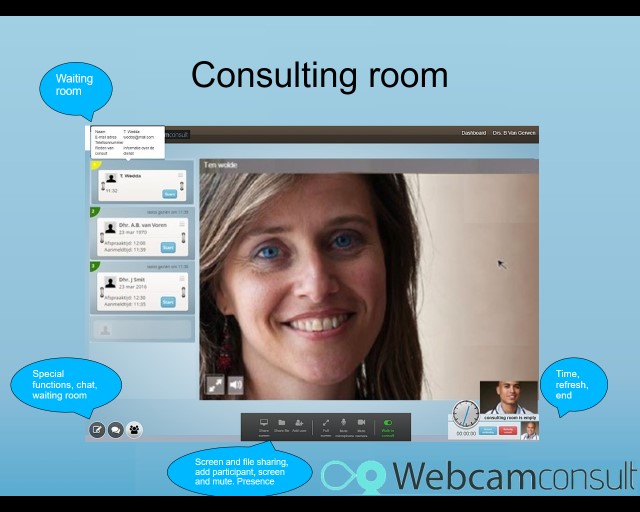 My organisation
In this block, you can manage various organization specific settings of your webcam consult application.
Here you can add your profile information:
General information such as name and phone number; you can change your password for the online consulting room;
Upload a profile photo/avatar;
Assign a department and assign a role.
Agenda management
This menu section will usually be used most by the Division administrator. Here, clients contact and appointment information is kept. In case you have a software link with your client-, EHR or CRM system, this menu is usually not available.
Here you will find an overview of the appointments scheduled today. Each division / consultant or therapist is clearly displayed in colors.
Client texts
The Webcamconsult system displays announcements or messages to your clients at different times. In this menu section you can customize these messages to your own preference.
You can set up these notifications after which they appear to in the online waiting room for waiting clients. This is useful e.g. if you are running late 10 minutes, or want to inform clients in the waiting room otherwise. You must not forget to delete the message afterwards.
Support
In this menu you can contact us and ask a question regarding the use of your Webcamconsult application.
From here you will be directed to the contact form on our website. Here you can go for sales-related questions or submit a request to receive further information or make an appointment with the webcamconsult staff.